Fast and Reliable COVID-19 Testing for Travellers, Work Clearance, and Peace Of Mind.
With over 500,000 tests administered during the pandemic, we are Canada's leading testing provider with 40+ convenient and easy to access locations.
Book Now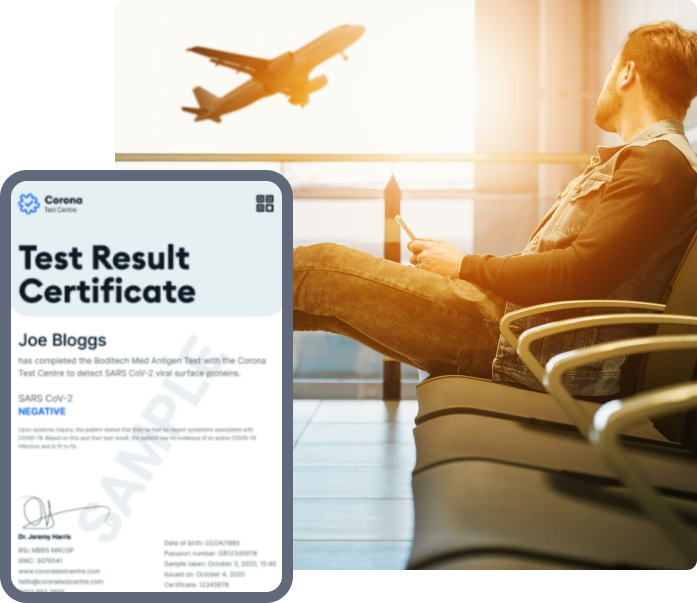 In-Clinic Pricing
Diagnostic COVID-19 test. Valid for international travel and work clearance
Price:
$100 plus
service charges
Diagnostic COVID-19 test. Valid for international travel and work clearance
Results:
Same-day if tested by 12 p.m.
Price:
$120 plus service charges
Valid for international travel to
China & Hong Kong.
Price:
$189 plus service charges
Diagnostic COVID-19 test. Valid for international travel to China & Hong Kong.
Price:
$250 plus service charges
Rapid Antigen Test for COVID-19. Valid for travel to the USA, Europe, and South America.
Results:
Under 60 minutes
Are you looking for at-home testing options?
Join the thousands of patients who use our easy-to-use collection kit right from the comfort of their home or office.
Our service is internationally recognized, compliant, and fully accredited.

More than 500,000 Tests Completed
We are leaders in corporate testing and modern health wellness.





Frequently Asked Questions
How can I book a test?
Click the BOOK NOW button at the top of the page to book your appointment. Your booking is confirmed after you have paid for your test on our website.
Who will do my test?
A licensed healthcare professional will undertake the nasopharyngeal swab. Laboratory staff trained to draw blood will perform antibody tests.
Is my personal data safe?
Data privacy and security are very important to us. We store all our data on servers located in Canada.
Do you have bulk testing packages?
Yes, we offer Individual and corporate packages. Please reach out to info@dm6labs.com for information and pricing.
What happens when I need to reschedule or cancel my appointment?
Before you book, you can find cancellation details on the booking page, and during the booking process—before you pay. After you book; As appointments are in high demand, all appointments will be subject to a final booking and will not be eligible for a cancellation or refund. If you are late for an appointment and the healthcare professional has to see the next patient, DM6 will put forth it's best effort to reschedule you at a later time. This could be at the same location originally booked at or at a nearby facility, subject to availability. All appointments late more than 1 hour will be deemed a no show, in which case the appointment will be considered cancelled.
Can I use DM6 labs certificates for international travel?
Yes. All of our services are internationally recognized. Please familiarize yourself with travel guidelines and protocols for entry at border crossing. The following IATA website is an excellent resource for travel restrictions by country. Please note the state of HAWAII and CHINA do not accept our certification. Please note that Hong Kong and China do next currently accept our travel certification.
How long will it take to get my PCR or Antigen test results?
Results for the PCR are guaranteed to be sent to your e-mail address the same day by midnight if the appointment is before 2 p.m. All appointments after 2 p.m. will have results issued within 24 hours from the time a test is conducted. Express-PCR test results are sent within 2 hours from the time a test is administered. Antigen results are sent within 30 minutes from the time a test is administered.
I did not receive my results. What should I do?
There is an error within my certificate I need adjusted. What should I do?
Please e-mail info@dm6labs.com with your name, location of testing, appointment date and time, and booking code. Please specify the adjustments you would like to make and an amended certificate will be issued shortly there after.